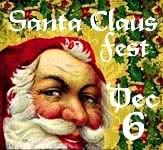 Ik vond wat foto's van Sinterklaasavond van een paar jaar terug:


I found some photo's from my family's St. Nicholas Eve a few years back:



En een boel troep aan het eind van de avond.


And lots of mess at the end of the evening.



Dit jaar vieren we geen Sinterklaas met de familie, maar het was toch een beetje pakjesavond. Gisteren werd namelijk de agenda die ik bij de Hema heb laten maken bezorgd. Ik ben helemaal gelukkig. Een heel jaar foto's van mijn eigen knutsels ;)


This year my family doesn't celebrate Saint Nicholas, but eventhough i received a gift at St. Nick's Eve. Yesterday the planner I ordered at a photo printing service was delivered. I'm so happy with it, a whole year to look at my own makings ;)



Er zitten heel veel foto's in, ben de tel kwijt. Hier een paar voorbeelden van de bladzijdes


It's filled to the brim with photo's. Here's a few examples of the pages.
Sorry voor wat wazige foto's, in het echt zijn de pagina's haarscherp.


Sorry for the somewhat blurred pics, in real life there's no blurring at all.